Completion Ceremony of Kiribati Solar PV Grid Connected Project



Completion ceremony of solar PV grid connected project was held at April 25th. For the first time ever, the PV power generation project was executed by Takaoka Engineering in Kiribati.
Project Profile
Project Name:Kiribati Solar PV Grid Connected Project
Client:Ministry of Public Works and Utilities (MPWU)
Content:Construction of PV Module 400kW
Completion Date:March, 2015
Mr. Anote Tong (President of Kiribati), vice president, Minister of Public Works and Utilities, and Mr. Hanatani (Japanese ambassador in Kiribati) were participated, and the ceremony was outstanding.
First of all, Minister of Public Works and Utilities, Mr. Hanatani, representative of Pacific Islands Forum, and Mr. Sato (Ace Consultant) as a representative of the project gave speeches
In Mr. Hanatani's speech, he introduced Ace consultant Co., Ltd., NBK Corporation, Fuji Electric Co., Ltd., and Takaoka Engineering Co., Ltd. who were participated this project.
After that, cutting Kagamiwari of Japanese style, Kiribati's traditional dance, and party were held, and the 3 hours ceremony was very enjoyable.
In Kiribati, the fuel for power generator relies on importing from other countries. This project support improving energy conservation and CO2 reduction by installing Japanese high quality PV facilities.
Kiribati people were very pleased about this project. We could have a wonderful completion ceremony and contribute to international society.

Site View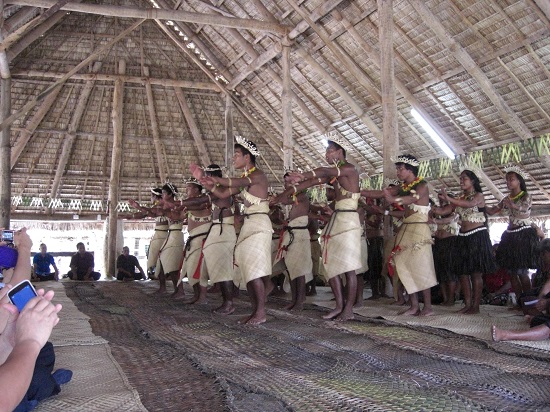 Completion Ceremony (Kiribati's Traditional Dance)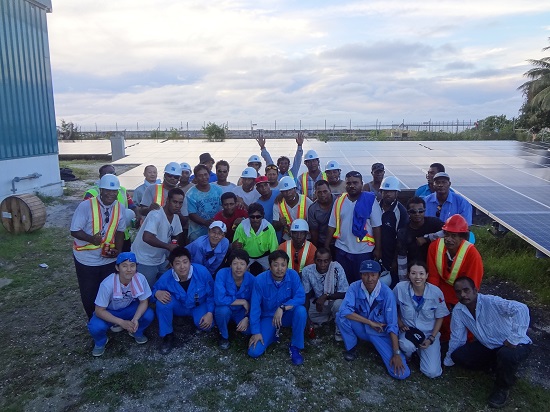 Ceremonial photograph with workers